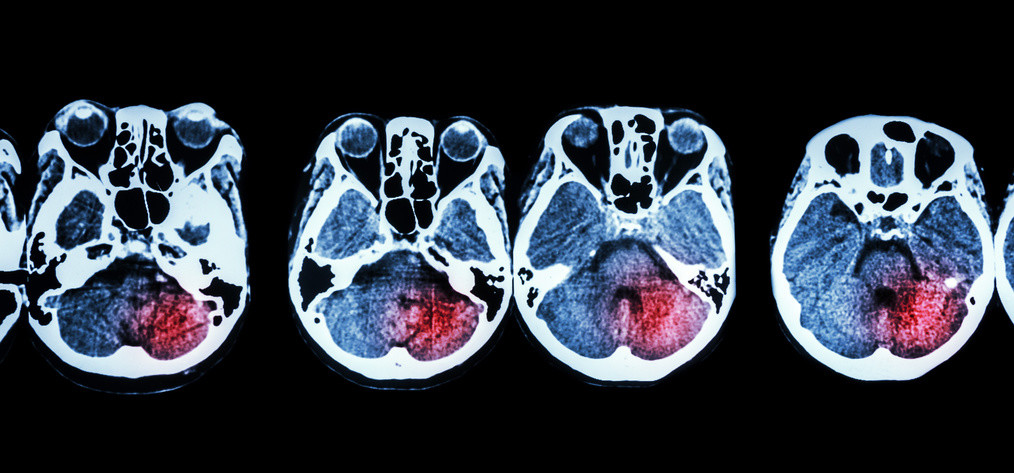 At this point most of us have seen either Will Smith's Concussion movie or the
PBS Frontline Special League of Denial on Dr. Omalu's CTE story. However, CTE is not the only aspect of concussion that can kill, Second Impact Syndrome is another killer associated to concussion and is arguably a much bigger concern in our youth-athlete populations.
Second-Impact Syndrome, or SIS, is defined by Stovitz et al (2017) as follows: "Second-impact syndrome refers to a very rare, but usually fatal diffuse cerebral edema as a consequence of a mild head injury. This term is applied typically when an athlete develops diffuse cerebral edema from a second head injury while still symptomatic from a first concussion.''
Another issue is that, according to the National Academies Committee on Sports-Related Concussions in Youth (2014), even though a patient may report having no concussive symptoms, they can still show cognitive deficits on a computer administered neurocognitive test (ImPACT, CRI, or ANAM as examples) for up to 3 days from the point of being asymptomatic. This means they patient may think they are no longer concussed but in reality, they still have brain damage from the initial injury. As a result of this finding, a patient may attempt potentially dangerous activities that could expose them to SIS and endanger their lives.  This fact stresses the importance of not only being asymptomatic but also being returned to baseline on neurocognitive testing prior to initiating a graduated return-to-play protocol.
With an estimated annual occurrence of concussions between 1.6 and 3.8 million incidents (Broglio et al, 2014), and when further examining only those aged 10-19 approximately 500,000 are referred to various emergency departments for their concussions (Gilchrist et al, 2011), then to top it off we know there is a major issue in underreporting of concussion and concussion-like symptoms in this population (Meier et al, 2014) we begin to see that there are the makings for a very dangerous situation in the youth-athlete population.
Not every concussion merits referral to the emergency department, Broglio et al (2014) suggests that this in only warranted when there are certain red flags present, such as:
Decreasing Levels of Consciousness
Increasing confusion
Increasing irritability
Loss of or fluctuating level of consciousness
Numbness in the arms or legs
Pupils becoming unequal in size
Repeated vomiting
Seizures
Slurred speech or inability to speak
Inability to recognize people or places
Worsening headache
The real worry exists in the combined concerns of the underreporting of concussions and the population vulnerable to Second-Impact Syndrome a controversial, infrequent, and potentially fatal outcome of mismanagement of concussion. Most patients that suffer from SIS are under the age of 18 (Cox, 2016), and with an estimated underreporting rate of 40% in concussed student-athletes combined with the 60% of athletes estimated to hide symptoms to return to play sooner (Meier et al, 2014) it can be seen how this has the makings for the perfect storm.
SIS has a 50% mortality rate (Stovitz et al, 2017; Cox, 2016; ), that means of the 20 cases that have been discovered and diagnosed that half of them perished(Dessy et al, 2015) , of the 50% that lived many had significant changes in quality of life. Take for example the Preston Plevretes Story. Horror stories, such as Mr. Plevretes experience with SIS, could have been prevented through proper concussion education and management.
I know what you are thinking, "But, how do we prevent this?" or maybe, "How can I make a difference in this?". Well, it all starts with education and making subtle cultural changes to protect our youth-athletes from SIS. A great start is to stop referring to concussions as "Bell Ringers", "Getting his/her bell rung", or "Dings". Referring to a concussion, which is actually a mild traumatic brain injury (mTBI), in such a manner as a ding or bell ringer down plays the severity of the injury. Combine that misuse of verbiage for a concussion with the glorification of playing through concussion, such as portrayed by NFL athlete Thomas Jones when he stated he felt playing concussed was when he played his best or that he felt in the zone, and you once more have that perfect storm for SIS.
In the end in order to make culture change we need to ensure we get our Student-Athletes/Youth-Athletes Baseline tested on Neurocognitive tests like ImPACT, ANAM, or CRI and ensure they follow the advice of Medical Professionals such as MD/DO/ATs. If we can shape culture change surrounding concussion, then we could likely prevent SIS from taking or affecting any more lives.
Author: Jeremy D. Howard, MS, LAT, ATC, CSCS, CES, PES, ITAT
References
Bey, T. & Ostick, B. (2009). Second impact syndrome. Western Journal of Emergency Medicine, 10(1), 6-10.
Broglio, S.P, Cantu, R.C., Gioia, G.A., Guskiewicz, K.M., Kutcher, J., Palm, M., & Valovich McLeod, T.C. (2014). National athletic trainers' association position statement: Management of sport concussion. Journal of Athletic Training, 49(2), 245-265.
Cox, W.A. (2016). Second impact syndrome. Forensic Science Newsletter, September 15, 2016. http://www.forensicjournals.com/blog/wp-content/uploads/2016/09/Second-Impact-Syndrome.pdf.
Dessy, A.M., Rasouli, J., Yuk, F., & Choudhri, T.F. (2015). Second impact syndrome: A rare, devastating consequence of repetitive concussions. Contemporary Neurosurgery, 37(20), 1-5.
Gilchrist, J., Thomas, K.E., Xu, L., McGuire, L.C., & Coronado, V. (2011). Nonfatal traumatic brain injuries related to sports and recreation activities among persons aged ≤ 19 years– United States, 2001-2009. Centers for Disease Control Morbidity and Mortality Weekly Report, 60(39), 1337-1342.
Meier, T.B., Brummel, B.J., Singh, R., Nerio, C.J., Polanski, D.W., & Bellgowan, P.S.F. (2014). The underreporting of self-reported symptoms following sports-related concussion. Journal of Science and Medicine in Sport, XX, 1-6.
National Academies Committee on Sports-Related Concussions in Youth. (2014). Retrieved from https://www.ncbi.nlm.nih.gov/books/NBK185340/.
Stovitz, S.D., Weseman, J.D., Hooks, M.C., Schmidt, R.J., Koffel, J.B., & Patricios, J.S. (2017). What definition is used to describe second impact syndrome in sports? A systematic and critical review. Current Sports Medicine Reports, 16(1), 50-55.